OEVOTAS PREMIUM ELIXIR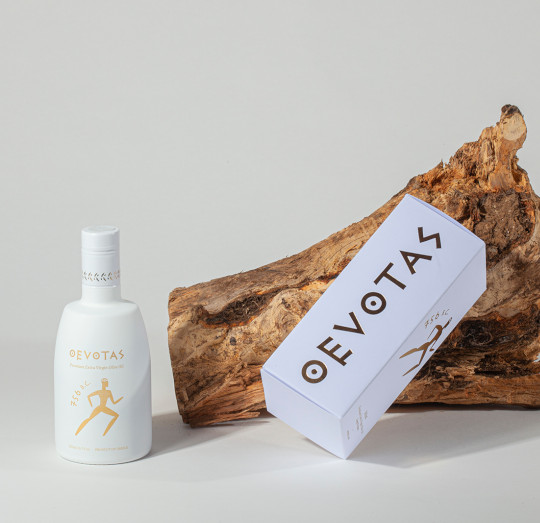 Premium elixir of variety olive oil, Koronia. Unripe oil (November 1-10) giving an intense fruity, bitter and spicy note. With aftertaste of cut grass, eucalyptus, fresh herbs and tomato leaf.
Rich in polyphenols 310mg / Kgr. Available in a 500 / 250ml glass bottle with luxury packaging.
The olive trees are located at the foothill of Mount Movris in Western Achaia, overlooking the Ionian Sea and along the shore of Larissos River, so the morning mist that covers the trees is taken away by the Ionian breeze.
The soil also plays an important role, it is quite rocky combined with the high altitude they create this feel of freshness and strong flavors. The OEVOTAS oil journey begins in late October, which is the ideal harvest season. Depending on the desired effect on taste, olives can be harvested anytime during ripening.
We prefer early time harvest, when the olives are still tasteless and green.
The olives are collected and then processed within 24 hours, in cold pressing with technologically advanced machines of GEA WESTFALIA, at temperatures below 27 ° C.
This way, we create an olive juice of exceptional aromas and flavors, ensuring that it keeps all its beneficial elements!
Prior to bottling, olive oil is stored in stainless steel tanks for a short period of time in order to achieve natural settling conditions.
MULTICHROMLAB SPIDER CHART
fruity

4,2

bitter

3,2

pungent

3,9

cut grass

3,9

eucalyptus

4,1

fresh herbs

3,3

tomato leaf

2,9